With the advent of the Internet of Things era, we are expected to live in a world dominated by hyperlinks. In the broad field of the Internet of Things, the Internet of Vehicles is one of the fastest growing market segments. The impact of this groundbreaking change on automotive design has been particularly noticed by the Chinese market.
Connected cars all the way east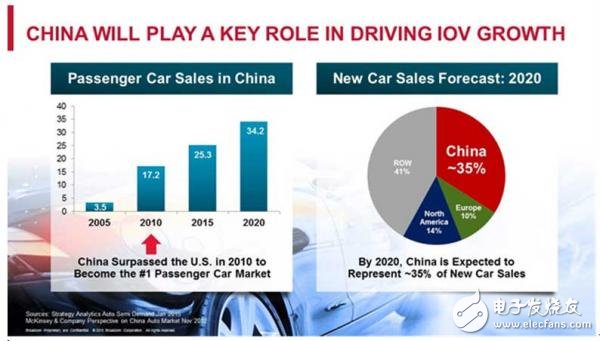 In 2010, China surpassed the US to become the world's leading new car sales market. By 2020, China is expected to account for nearly 35% of the global new car market. Today, people are paying more attention to the integration of in-vehicle connectivity. The core idea of ​​connected cars is to use semiconductor chips to achieve connectivity. As technology continues to innovate, analysts predict that by 2020 the number of chips per vehicle will approach 1,000. Let's take a closer look at the various leading technologies that drive the development of the Internet of Vehicles.
Wi-Fi wireless connection
Car Wi-Fi is like a game changer. Analysts predict that by 2019, the number of in-vehicle applications supporting Wi-Fi will increase by eight times. Integrating 5G Wi-Fi technology with the latest wireless 802.11ac standard will enable drivers and passengers to synchronize and transmit content from mobile devices to the vehicle's infotainment system and rear-seat display via a smooth 5 GHz channel on.
Automakers can take advantage of in-vehicle Wi-Fi to implement software upgrades and new features. Drivers can use their mobile devices to remotely view their vehicle position, fuel volume and mileage, as well as receive early warning information about vehicle performance and diagnostics on the same mobile device. In addition, the in-vehicle Wi-Fi technology can also set up a mobile hotspot to connect to the network without relying on cellular devices and moving. Wi-Fi is also expected to play a key role in V2X (vehicle-to-everything) communication and unmanned driving. The Wi-Fi advantage is even more pronounced as standards for supporting Gigabit and higher rates continue to evolve.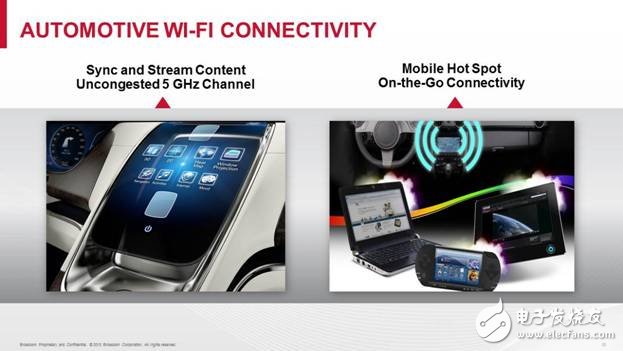 Based on the latest 802.11ac standard, 5GWiFi technology allows drivers and passengers to easily synchronize the contents of mobile devices in the car and transmit them to the car's infotainment system and rear seat display.
Bluetooth® and Smart Bluetooth
For years, Bluetooth has become synonymous with car hands-free phones. Energy-saving technology called "smart Bluetooth" or "Low Energy Bluetooth" (BLE) is one of the important technologies for the development of Bluetooth in the car. With BLE, Bluetooth can work with very little power, and after a single charge, the battery can last for months or even years.
Smart watches, sphygmomanometers, pulse monitors, alcohol monitors, or blood glucose monitors will be the first wave of wearable devices that connect to the vehicle. Currently, Apple and Android systems have supported low-power Bluetooth (BLE) technology, and a low-power ecosystem has gradually taken shape. As Broadcom and other companies introduce semiconductor chips that support Bluetooth low-power (BLE) capabilities, the ecosystem will expand into the automotive sector in the near future.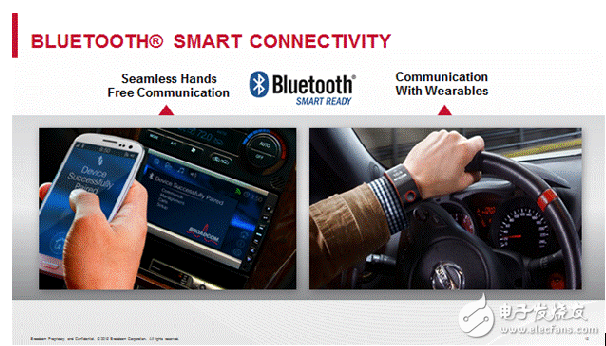 Bluetooth Smart Ready technology will play a vital role in the implementation of vehicle-to-wear technology connectivity, including the monitoring of biometrics such as fatigue driving, blood alcohol levels, and blood glucose levels.

USB Charger Adapter,Square USB Charger,Square USB Charging,USB AC Charger
Dongguan baiyou electronic co.,ltd , https://www.dgbaiyou.com