Recently, " robot " seems to be omnipotent: "Alpha Dog" Go game defeated Li Shishi, Bloomberg, the Associated Press began to use robots to write some news reports. On May 5th, it was reported that the "College Entrance Examination Robot" led by the National 863 "Super Brain Project" will participate in the 2017 College Entrance Examination. Its goal is to exceed the key undergraduate scores.
The film and television circle is also madly passing. The film and television companies have used their own software to guide and evaluate the script creation. "The robot started to write the script." Despite this, the writers in the industry do not think that their creative work will be replaced because the robot has no lively emotions.
origin
The robot writes the script quietly
The statement that "robot writes the script" originated from a forum called "original and IP-related fried too urgent". Xu Yuanxiang, vice president of Ali Pictures, said that Ali Pictures will no longer ask professional screenwriters in the future, but " IP's post bar and the author of the fiction novel PK "write the story. When this statement came out, it caused many writers to swear. Later, it was reported that Ali's scriptwriter robot has launched a beta version, which takes only 30 minutes to create a complete movie script.
Xu Yuanxiang said that this is a misunderstanding. He is a screenwriter and knows the importance of the script, but it still leads to many discussions on scriptwriting, IP and film.
Our reporter subsequently confirmed that the "Alibaba robot wrote a movie script for 30 minutes" widely spread in the WeChat circle was a fake news. But in fact, many film and television companies in the industry have used their own software to guide and evaluate script creation. "What viewers like to see and in which direction, the data owned by the computer is powerful, and the script can be modified." The film and television drama company scriptwriter told the reporter, "For each producer, the script for the robot is still quietly carried out, not too arrogant. After all, a good script depends on a professional screenwriter, clearly saying that writing with a robot will offend the profession. screenwriter."
View
Robots have no live feelings
Although the "robot writing script" was not publicized, it still caused a strong opposition from the writer circle. Our reporter interviewed five screenwriters at random, and three of them responded with a very clear attitude. "The robot writing script is a noisy and not worth refuting."
OEM Original iPhone Battery Pack are brandnew cell with 0 cycle,protection board and FPC is same as original 1:1.We offered iPhone battery replacement made by 100% pure Lithium cobalt oxide which is AAA high quality,more durable rather than ternary material.AOKAL have professional experiences on iPhone Replace Battery for 5 years,we are totally understand which kind of Apple Battery Replacement is more stable and safety.We are professional manufacturer on iPhone battery only!

iPhone Battery Specification:
Item No.
Capacity(mAh)
(Whr)
Nominal Voltage

(V)



Limited Charge Voltage(V)
Cell Size(mm)
iPhone 4
1420
5.20
3.7
4.2
423482

iPhone 4S



1430
5.30
3.7
4.2

423482




iPhone 5



1440
5.45
3.8
4.3
363292

iPhone 5S



1560
5.92
3.8
4.3
363491

iPhone 5C



1510
5.73
3.8
4.3
363391

iPhone SE



1624
6.21
3.82
4.35
363390

iPhone 6



1810
6.91
3.82
4.35
333996

iPhone 6Plus



2915
11.10
3.82
4.35
3348119

iPhone 6S



1715
6.55
3.82
4.35
293996
iPhone 6S Plus
2750
10.45
3.8
4.35
2949119

iPhone 7



1960
7.45
3.8
4.35
333993
iPhone 7Plus
2900
11.10
3.82
4.35
3249119

iPhone 8



1821
6.96
3.82
4.35



iPhone 8Plus



2675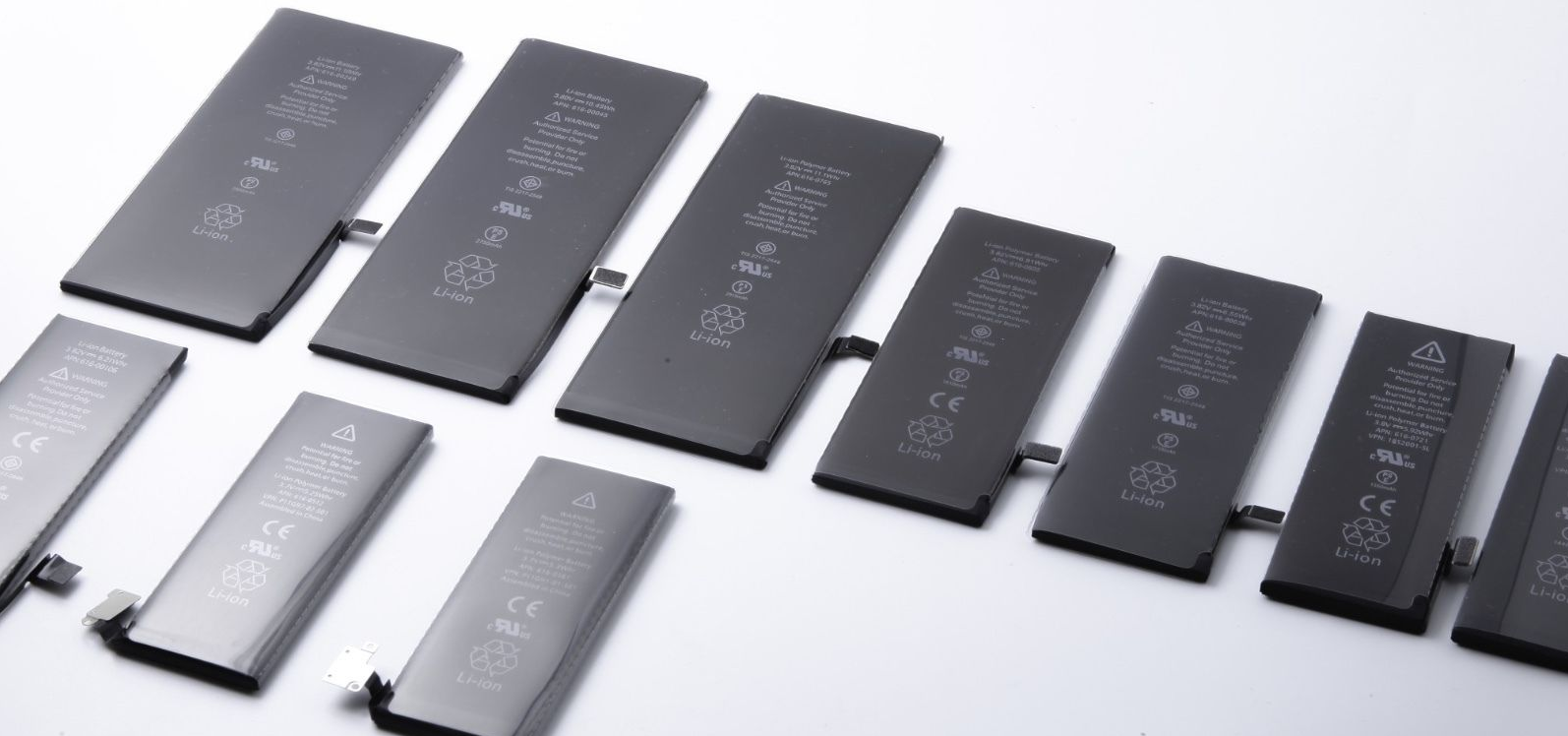 Certified Batteries

100% brand new, high quality
ORIGINAL OEM BATTERY (Original Equipement Manufacturer)
Recharge Cycle :500-800 times
Raw materials:
P

ositive electrode: 100% pure Lithium cobalt oxide (LiCoO2
)
Negative electrode: Graphite
Integrated Dual IC chip protection
Anti-overload, for a longer life
Anti-short circuit, to protect your data
Working temperature: 0-30℃
Battery certified to manufacturer's standards RoHS, CE, FCC, ISO9001
These batteries have exactly the same size as the original batteries
Warranty: 12 months
Batteries complying with conformity certificates.
RoHS : Restriction of the use of certains hazardous substances in electrical and electronic equipment.
This standard is intended to limit the use of 6 hazardous substances.
CE : European Conformity, Batteries meeting European technical harmonization standards. The batteries were subjected to design and control checks; And meeting the essential technical requirements established by the European Directive.
This marking allows free movement within the European market.
Certificate of the quality management system.
ISO 9001 is an international standard, which defines the requirements of a quality management system to increase customer satisfaction and improve the functioning of the company.
Welcome OEM/ODM order,accepted small order start from 100pcs. If you have any questions, please do not hesitate contact with us.iPhone battery are produced by
iPhone Battery
iPhone Battery Pack,Internal iPhone Battery Pack,iPhone Battery 0 cycle,iPhone battery replacement,iPhone battery original capacity
Shenzhen Aokal Technology Co., Ltd. , https://www.aokal.com