[Text|High-tech LED reporter Gan Qin]
Since the concept of "smart city" was proposed by IBM in 2009, the development of smart city in China is a flourishing. As of 2013, more than 400 cities in China have announced the construction of smart cities. The construction of smart cities will inevitably drive the development of intelligent lighting. This new enthusiasm is gradually changing the competitive landscape of China's new round of cities.
As a relatively mature domestic application market, the overall environment of LED street lamps has stabilized, and LED street lamp companies are actively seeking new economic growth points. Under this background, the application of intelligent control systems on LED street lamps has gradually increased and gained The market has been widely concerned.
Intelligent LED street lights can save 10%-20% on the original LED energy-saving technology. Many domestic street lamp companies have begun to work on the development and production of intelligent LED street lamps, including domestic up-and-coming talents such as Qinshang Optoelectronics and China Micro-Optical Electronics.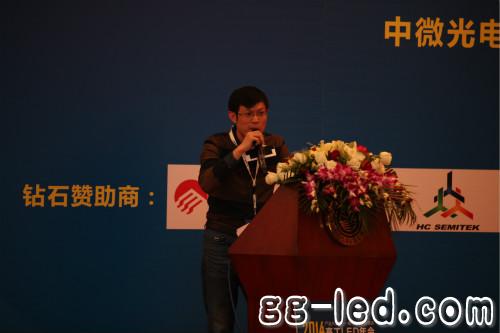 Li Mingjun, Vice President of Micro-light Electronics
Li Mingjun said, "As of the end of 2012, China Micro-Optical Electronics has built 12 complete 'LED cities' at home and abroad, and is the world's largest 'LED city' manufacturer." Li Mingjun, vice president of China Micro-Optics, held on the afternoon of December 12. The 2014 High-tech LED High-tech Conference was held at the theme of "The Great Strategy of the Industry" by Zhongweiguang Electronics. The company has issued more than 500,000 LED street lights to customers in more than 56 countries and regions. One of the largest manufacturers of LED lamps on the market.
"To be the best light in the world" is the mission of China Micro-Optical Electronics. In the view of Zhongweiguang, the best light is "the most economical, environmentally friendly, healthiest, most comfortable, and most intelligent light."
Li Mingjun said that street lamps must not only meet the needs of people to illuminate, but also meet the needs of urban lighting and meet the needs of urban light culture.
The most intelligent light mainly fits the transformation of the smart city. The wireless smart street light launched by the company intelligently controls the lighting through the wireless, and can be transmitted to the console completely and accurately, achieving full-scale monitoring without dead angles, and also achieving brightness of the lamps. The adjustment, the opening control, the lamp current, the voltage detection, and the detection of the working state of the lamp. The most comfortable and healthy light is to make consumers feel warm and comfortable.
Li Mingjun said that the reason why the speech was named "Wings of Light" is that China Microlight Electronics will put the most intelligent and healthy and comfortable light into China's LED light to help China's LEDs rush out of the world!

Disposable mask,Protective mask,Mask disposable,Dust mask
Shenzhen Gmaii Technology Limited , https://www.gmaiipos.com