On June 18, 2014, Dalian United Holdings, a leading electronic component distributor dedicated to the Asia-Pacific market, announced that its products are based on NXP's Jennic wireless products, Cortex M series 32-bit MCUs and GreenChip lighting driver ICs. Launched its intelligent lighting solution, which enables each lamp to have its own independent IP address, and can switch and dim the lights through smart phones, mobile internet terminals, smart home control panels, computers and other products. Control of functions such as discoloration.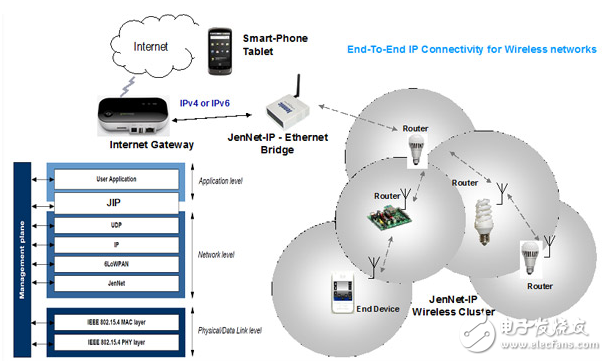 Graphic - Node Block Diagram: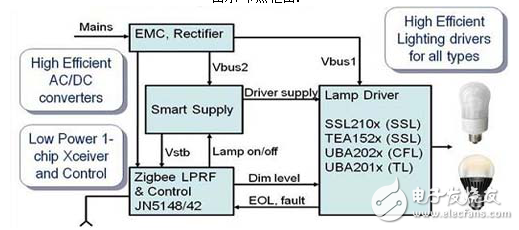 Figure - NXP Smart LighTIng SoluTIons Platform, One platform for CFL, SSL & HF-TL
The JN5148, represented by the Grand Alliance Group, is the latest third-generation ultra-low-power, low-cost wireless microcontroller from NXP Jennic, targeting IEEE802.15.4 and ZigBee PRO applications. The JN5148 integrates a 32-bit RISC processor. The 4-32Mhz clock can be adjusted according to the application software. It includes a 2.4GHz IEEE802.15.4-compliant transceiver, 128KB ROM, 128KB RAM, and UART, SPI, IIC, DIO, Rich digital and analog peripheral interfaces such as ADC and DAC. Up to 128KB of RAM allows customers to run the Zigbee PRO protocol stack as well as customer applications. With operating currents as low as 18mA, a coin cell battery is fully capable of meeting application needs. In addition, the JN5148 adds many other features to the second generation JN5139.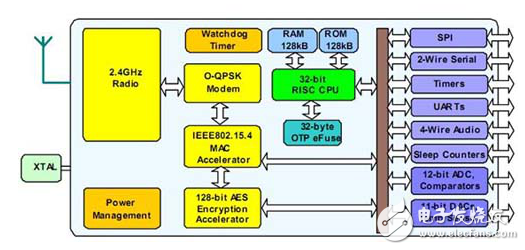 Transceiver features:
2.4GHz IEEE802.15.4 compatible
500 and 667 kbps data transmission mode
Deep sleep: 0.1uA
With timer sleep: 1.1uA
?RX current: 18mA
?TX current: 15mA
Receiver sensitivity: -95dBm
? Transmitting power: 2.5dBm
Flight time measurement mechanism
MAC acceleration, CRCs, address check, auto answer, timer
Power supply: 2.0-3.6V DC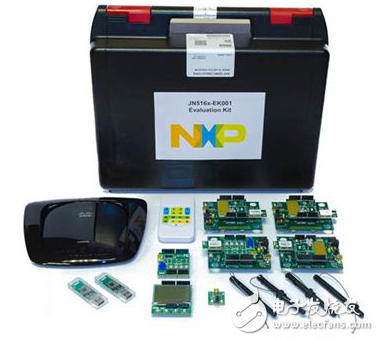 Graphic - JN516x Evaluation Kit
Designed for use with the NXP JN5161, JN5164 or JN5168 wireless microcontrollers, the JN516x evaluation kit provides all the components needed for system development, including a range of wireless carrier boards, plug-in expansion boards, USB connectors, and a remote control. An Internet router that is specifically programmed to run enhanced OpenWRT firmware and a complete software design suite. This comprehensive development kit makes it easy to design IoT solutions using ZigBee, JenNet-IP or RF4CE.
Pulse Oximeter Features:
1. Accurate and reliable
Accurately determine your SpO2 (blood oxygen saturation levels), pulse rate and pulse strength in 10 seconds and display it conveniently on a large digital LED display.
2. Full SPO2 value
The ONLY LED pulse oximeter that can read and display up to 100% for SpO2.
3. Health care
For sports enthusiasts like mountain climbers, skiers, bikers or anyone interested in measuring their SpO2 and pulse rate. SpO2 and Pulse Rate now faces instead of away from the user for an easy read.
4. Finger size
Finger chamber with SMART Spring System. Works for ages 12 and above.
4. Include 2X AAA BATTERIES that will allow the pulse oximeter to be used right out of the box, a SILICON COVER to protect your pulse oximeter from dirt and physical damage and a LANYARD for convenience
Handheld Pulse Oximeter,Blood Oxygen Pulse Oximeter,Portable Pulse Oximeter,Baby Pulse Oximeter
Axiswell Technology Co., Ltd , https://www.medhealthycare.com