A few days ago, Foshan held an entrepreneurial symposium and a mobilization meeting for the 2013 "warm enterprise activities" in Foshan City. At the meeting, local entrepreneurs in Foshan confessed to the mayor, and they should give local enterprises a little more "preferentials" and seek a fair competition environment with the city government to attract investment.
LED companies call for concern for downstream business development
The LED enterprises in Foshan are mainly downstream enterprises. However, the current preferential policies issued by the government are mainly biased towards the middle and upper reaches, so most downstream enterprises cannot benefit.
In this regard, the person in charge of Foshan Kaixiou Lighting Co., Ltd. expressed the hope that Foshan will issue relevant policies and give more support and care to the LED downstream enterprises in Foshan.
At the same time, the person in charge of the company also pointed out that LED lighting has not yet formed an influential brand, so the policy to be introduced should be based on support design, and should not simply support the market.
It is understood that 90% of the world's LED lighting products come from China, but in design China only accounts for less than 10%. Therefore, the person in charge suggested that the government set up an LED industry engineering transformation fund to form a new business model.
New companies must participate in the establishment of international standards
Guangdong Aike Technology Co., Ltd. is a modern information service company. As a new type of enterprise, the person in charge of the company stressed that if such enterprises need to form a core competitive advantage, they must edit and participate in international standards, and have their own international standards to occupy the highlands in exports.
The person in charge revealed that he has been in the industry for nearly 15 years. In his experience, emerging industries are still crossing the river by feeling the stones. If they don't discuss standard issues with their international counterparts, they will easily encounter them in the export. The bottleneck of international standards. "The electronic information industry has no domestic advanced theory, and can only say who is internationally advanced."
High value-added industries are the core of transformation and upgrading
Ding Li, a professor at the Guangdong Academy of Social Sciences, pointed out that the requirements put forward by enterprises are reasonable, and local enterprises need to be treated equally with enterprises that attract investment. After long-term development, Foshan should return to a state of fair and calm development. When talking about traditional industries and high-tech industries, Ding Li said that he did not support excessive emphasis on the development of high-tech industries. Because many times due to lack of technology, local governments only label good, but the actual effect is not good, the development is still the traditional industry. He pointed out that the development of high value-added industries is the core of transformation and upgrading.
(This article is reproduced on the Internet. The texts and opinions expressed in this article have not been confirmed by this site, nor do they represent the position of Gaogong LED. Readers need to verify the relevant content by themselves.)

Wrapping materials: Power Cable Paper, High Density Insulation Paper, heat-resistant insulating paper, clupak paper, Nomex 410, all kinds of self-adhesive paper and other special insulation materials
As per Conductor Material:Copper , aluminum
As per Inner Conductor: Paper wrapped bare
Insulation thickness:Double paper covered (DPC) orTriple Paper Covered (TPC) ,According to Customer`s requirements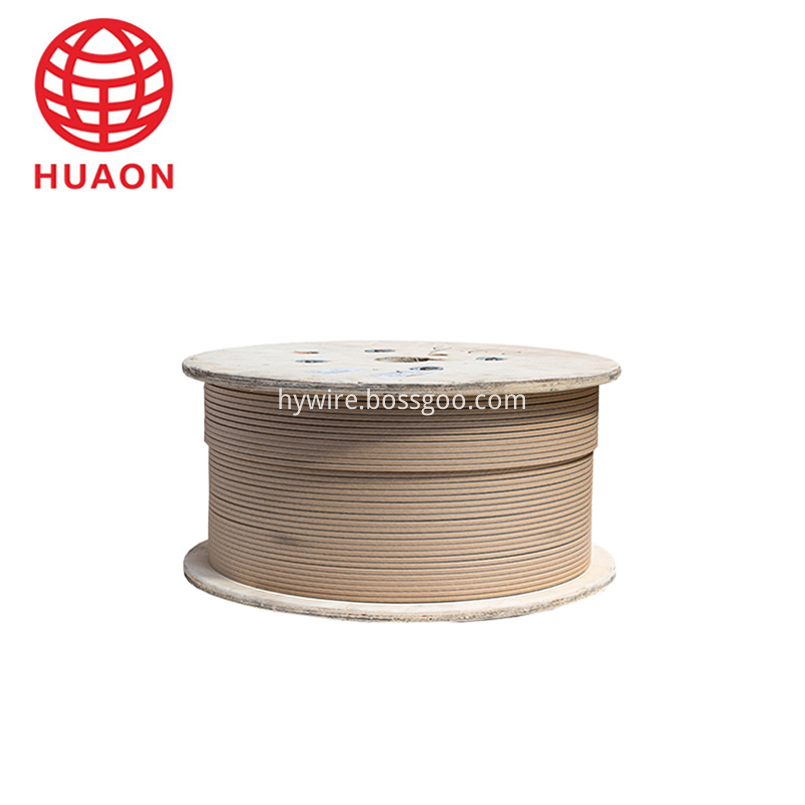 Conductor of Paper wrapped wire
Bare Wire Round Wire:Φ1.00mm-Φ5.00mm
Rectangular Wire thickness a:1.00mm-5.60mm
Width b:2.00mm-16.00mm
Conductor of Composite wires
Max wrapping layers once: 24 layers for Paper Covered Wire
4 layers per wire and 16 layers outside for composite wires
We could offer products of special requirements on conductor size, insulation layer thickness, or wire number of the composite.
Paper Covered Flat Copper Wire
Aluminum Enameled Wires,Paper Covered Flat Copper Wire,Cable Paper Covered Insulated,Paper Covered Insulated Wire
HENAN HUAYANG ELECTRICAL TECHNOLOGY GROUP CO.,LTD , https://www.huaonwire.com