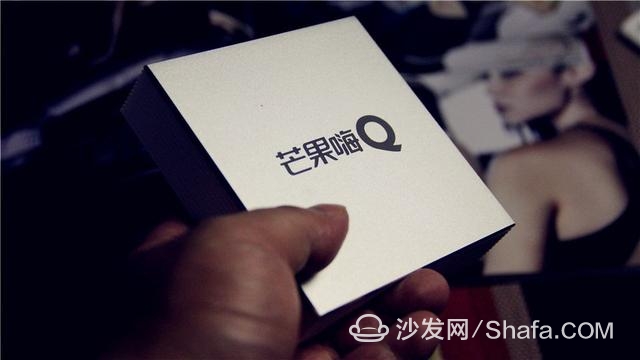 Foreword
In the field of high-definition players, there are also two or three years of time for Android set-top boxes to come out. During this period, each brand will have new products coming out every month. However, besides continuous upgrading of hardware configuration, it will not feel too much in the control experience. The big change is nothing more than a high allocation and a smoother system. Afterwards, some software development of remote control was added to make the operation more diversified. However, I believe most people are more accustomed to using the remote control for actual operation, not mobile phones. Recently, the old player manufacturer Haimeidi launched a so-called human-computer interaction, Bluetooth voice control mini box - Mango Q Q6, which is also the first Haijia home voice box, which uses a metal shell, is small, and supports Hard to solve 4K, H.265, in content and mango TV marriage, can be described as strong and strong, in the entire experience process has a very good performance!
official data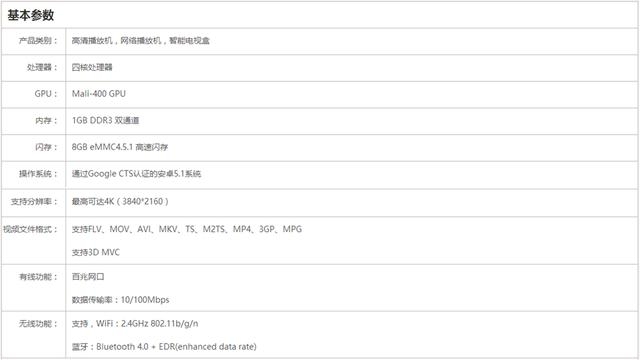 Appearance out of the box
The H6's box features an overall white tone, with a fluorescent-colored "mango 嗨Q" logo, and the upper right corner is a "mango TV custom" identity.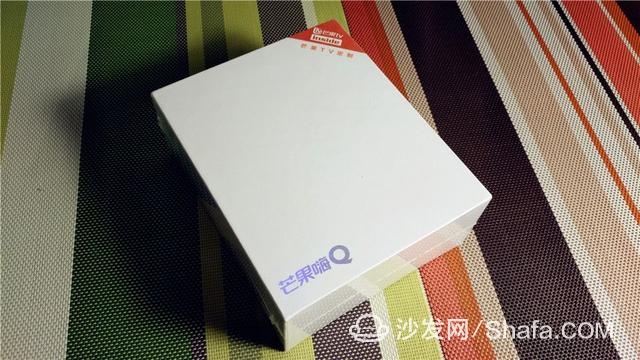 The inside of the box is divided into two layers: the upper layer and the lower layer. The random accessories are placed in the lower layer.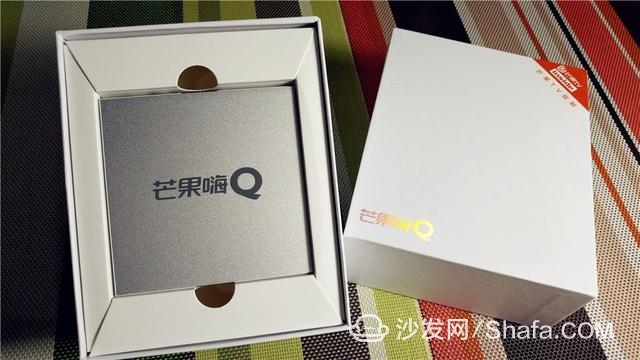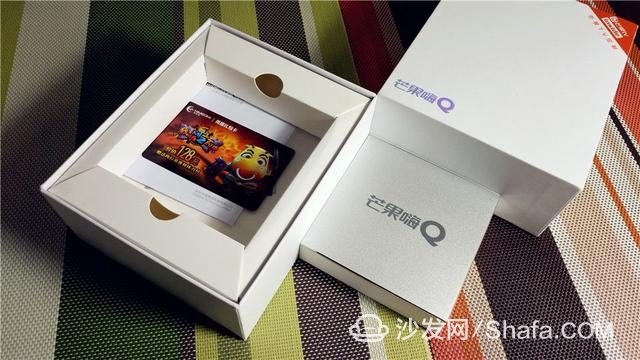 H6 random attachment is also relatively simple, in addition to the host, is the remote control, power supply and HDMI HD cable standard three major parts, manual warranty card number, in addition, there is a value of 128 yuan I called MT2 game card.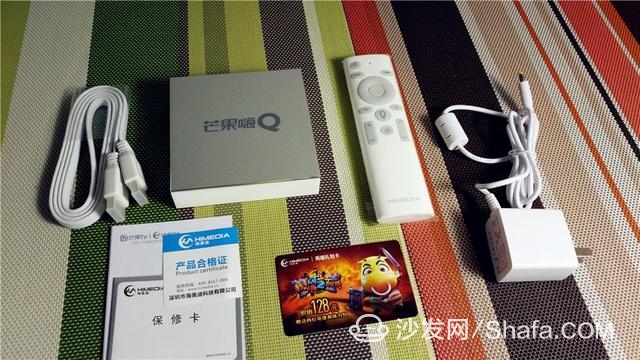 The shape of the mango 嗨 Q H6 is similar to that of the previous Q2, but it is more atmospheric. The square body is equipped with an aluminum alloy frosted panel and the top is printed with the "mango 嗨 Q" logo, which is polished by the CNC process. Each edge is well-handled and shows its excellent product quality in detail.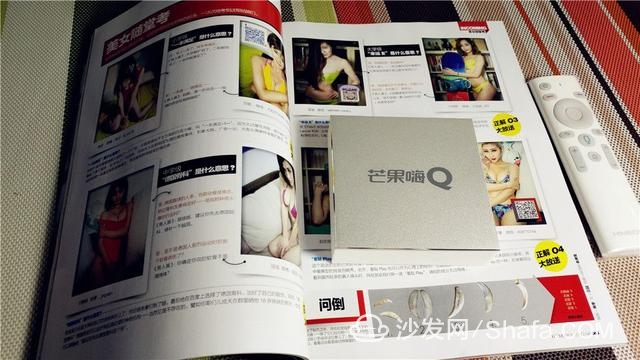 The use of a regular multi-line groove design on the side makes the whole body look richer and more stylish. It is more durable than the previous flat design. On the side of the groove, there is also a H6 power indicator.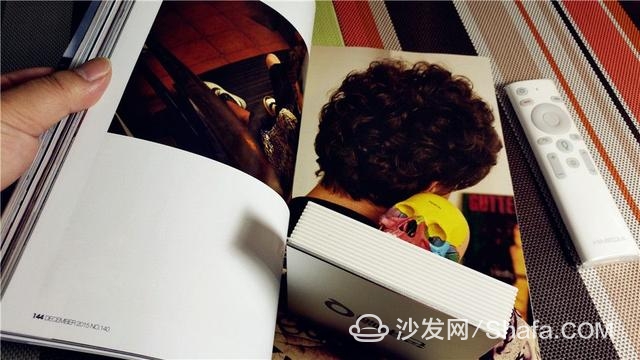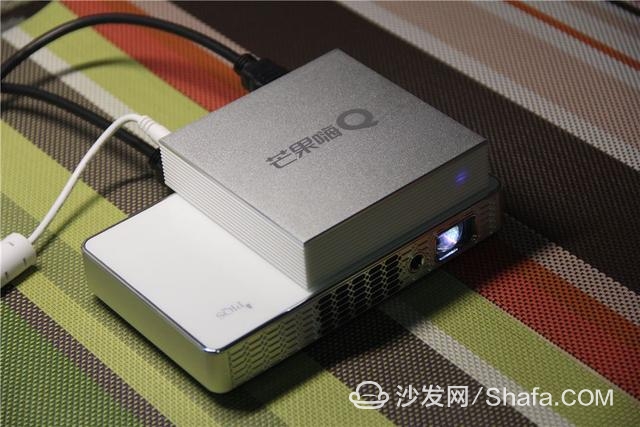 The interface of H6 is centralized on the back of the machine. Because of the positioning of products, the types of interfaces are not abundant, but it is completely enough for daily needs. From left to right, it is a composite audio and video AV output interface, HDMI2.0 high-definition interface, respectively. Network interface, 2 USB 2.0 interfaces, and one is the power interface. For me, although the interface is not much, it is sufficient, but the network interface does not use the gigabit specifications to give people a slight regret.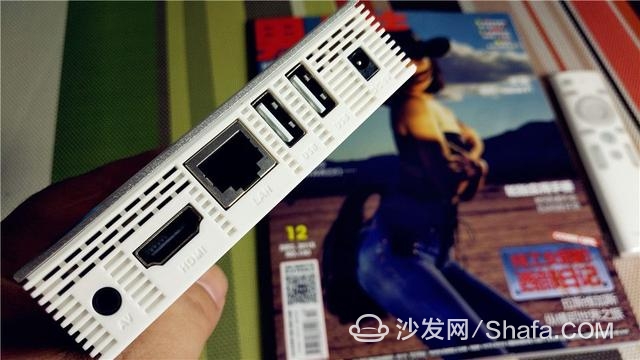 Because it is H6 is a Bluetooth 4.0 voice box, so its remote control is also different from the previous, elliptical 16-key design, feel fairly comfortable, the top two custom buttons make daily operations faster The middle green voice logo button is also the highlight of this remote control. In terms of operation, it has a wider controllable range than the previous infrared remote control, and it can achieve a 360-degree dead-end operation within a range of 8 meters. This is more suitable for projection users, and it is no longer necessary to operate the remote control behind it.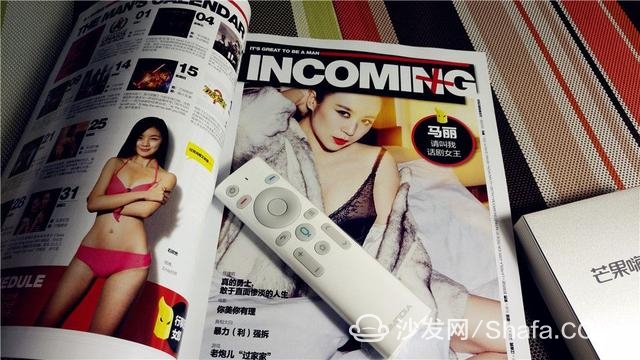 In addition, the red and blue private custom keys on the remote control can also set a variety of shortcut operations, including output switching, mouse, subtitles, audio tracks, mutes, and custom applications, which greatly simplify our operation steps. . There is a high-fidelity noise reduction MIC on the back of the remote control, and the recognition effect is very good.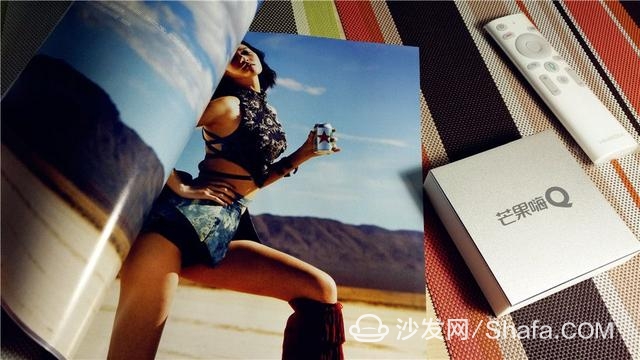 Special feature
Since the H6 is a TV box with a voice-driven control, let's take a look at its voice control capabilities. We can use the voice button on the remote control to call out the voice menu, which is based on the product of the voice of the phone, called the XFN TV language, similar to the siri on Apple. We can see through the text prompts that we can not only perform video search playback by voice, but also can do some daily needs, such as weather inquiries, stock inquiries and some gossiping.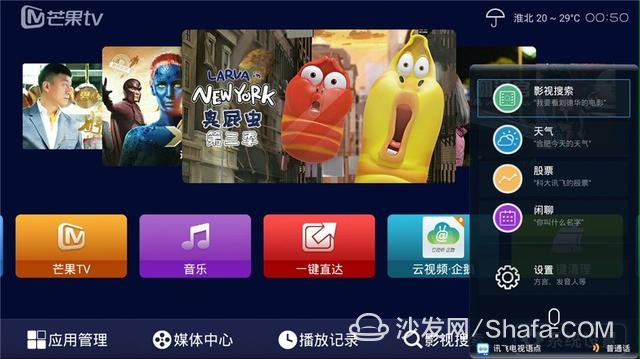 In terms of idea setting, we can use Putonghua, Cantonese or Sichuan dialect, and there are multiple voice samples for you to choose. I listened to them one by one, all of which were more rigid and lacking spirituality.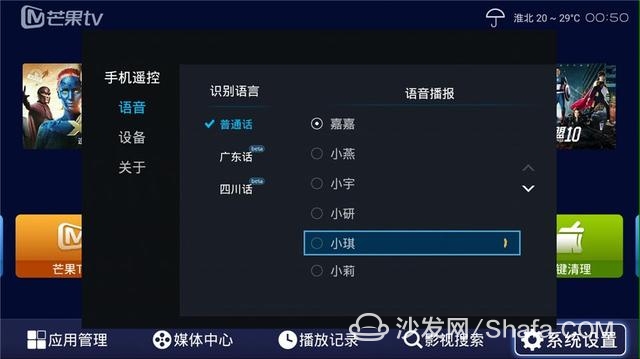 Through repeated testing, H6's voice recognition capability is very strong, and the recognition speed is very fast, as long as the network is no problem, basically reached the call. Usually on the TV to check a weather forecast no longer has to type on the Internet.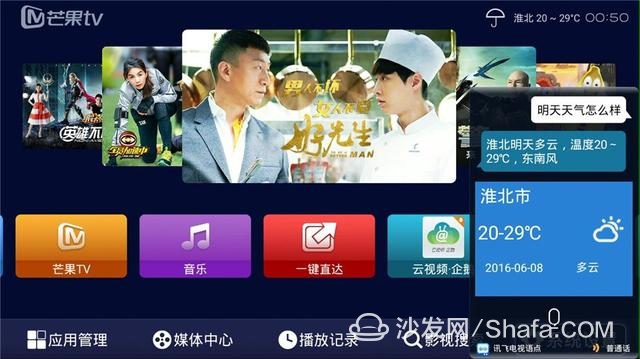 Although looking at the stock information query is not very comprehensive, but it can basically understand a general idea.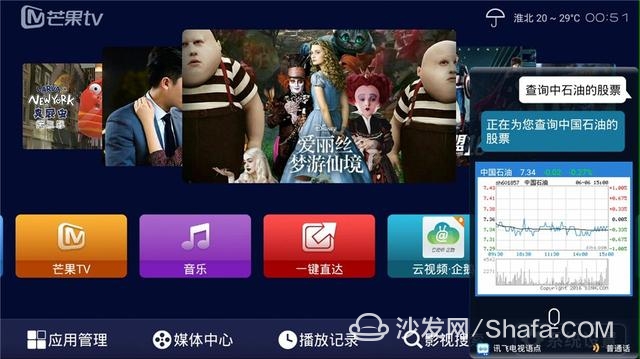 If you want to see what movies and TV dramas, you just need to name the movies on the remote control. H6's voice search is a global search, not just search on Mango TV. As long as you have installed other video software, it is Can search. But I still have some suggestions for the voice function of H6. Since it is a global control, then it should be done more thoroughly, for example, "the resolution is adjusted to 1080P" and "play to 18 minutes and 18 seconds." , "Search and install QQ browser" and so on.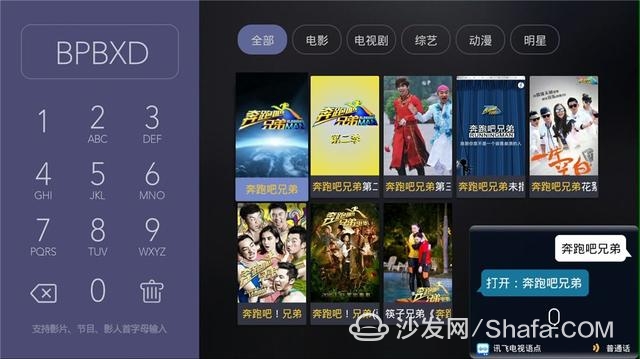 Software running points
With security Bunny evaluation software test, H6 ran out 21445 points, the score is not high, is a moderate level.
NenaMark2 gave a score of 58.7fps, which is in the middle.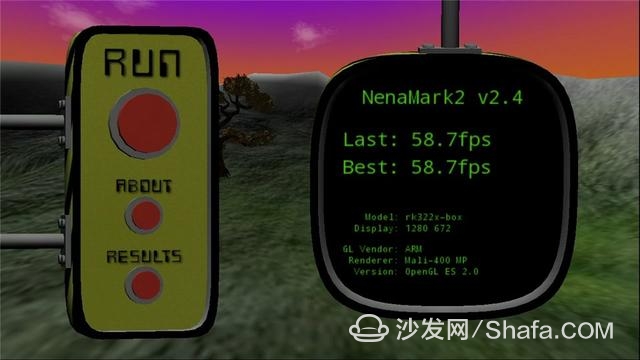 System Experience
H6 adopts Android 5.1 depth-customized HIUI in the system. It integrates simplicity and beauty. The upper layer is a film poster wall, the middle layer is an application shortcut, and the lower layer is a five-setting menu. Compared with the general box system, the operation is more efficient. simple.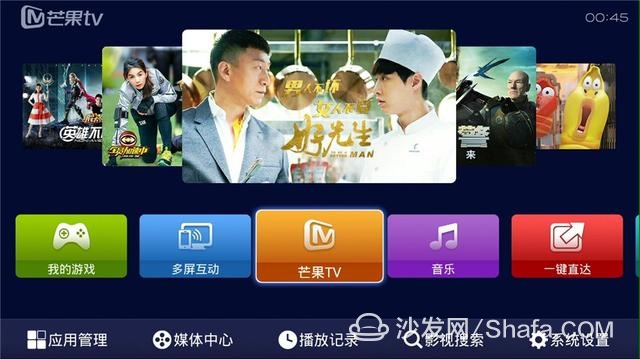 The system settings are also optimized from the native settings interface. Some insignificant setting options have been removed. Only some commonly used options have been retained. This makes the choices clearer and does not need to be tangled with which settings are not set.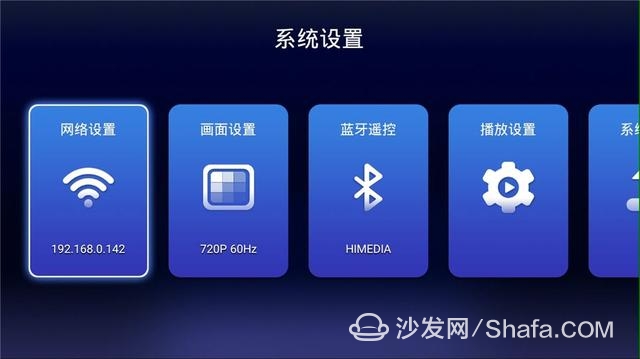 The application management interface uses a flat checkered design that looks beautiful and overall.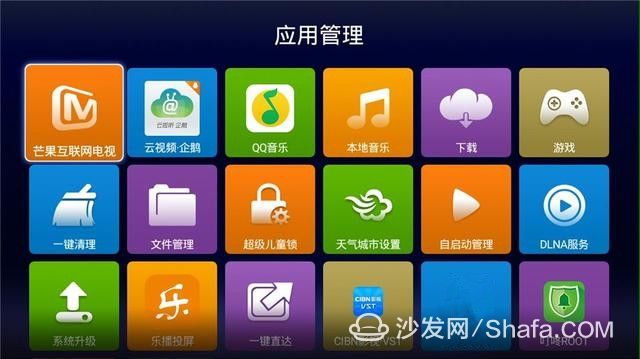 Haimeidi H6 still retains traditional WeChat push and enjoyment functions.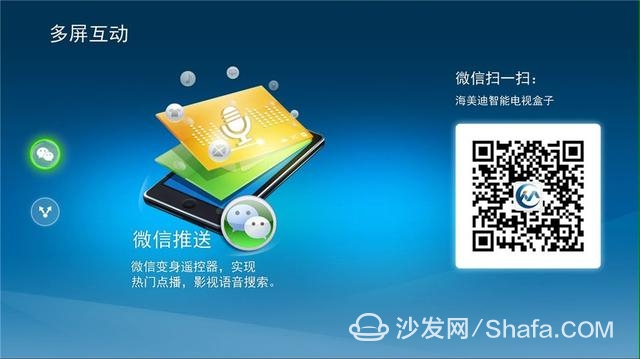 Two custom buttons on the remote control can be freely selected in the shortcut list, including nearly 20 options.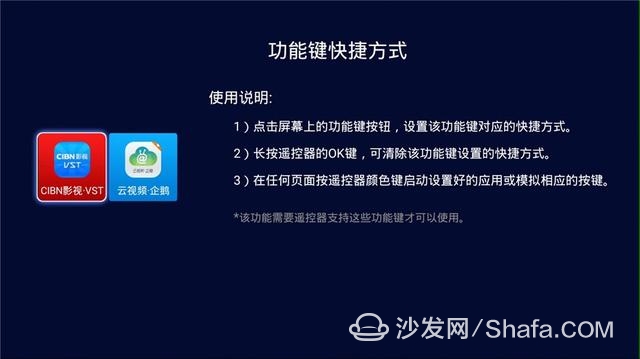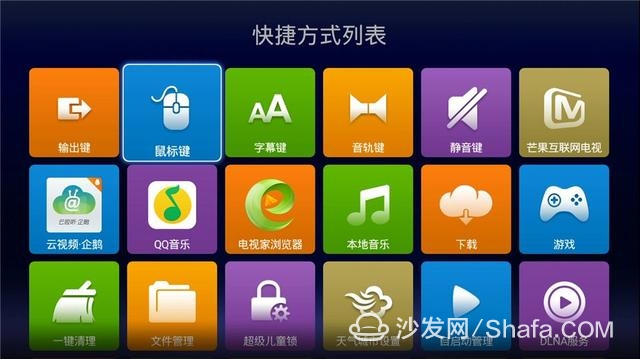 Sea Medi H6 supports "children lock" function, parents can set the automatic lock screen and shutdown function to prevent children from watching TV excessively.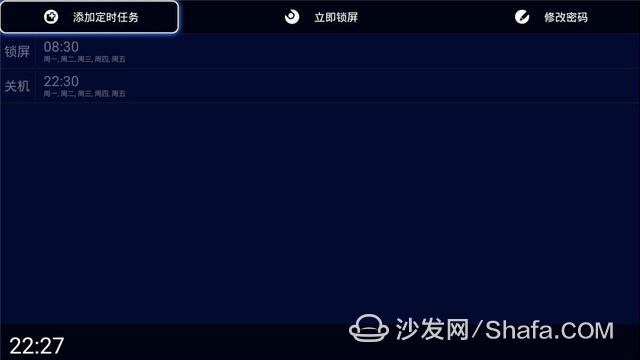 There are good hardware and display effects, of course, with a rich content resources, the combination of software and hardware can play the greatest value of a TV. In terms of content, it is recommended to install a sofa butler - the sofa butler is a third-party app store designed specifically for smart TVs, Android box users, carefully providing television, box users with high-quality television exclusive version of the application, including with live Or on-demand video and audio and video software, various types of recreational competitive video game software and daily office entertainment management system management tools. Users can refer to the tutorial: Haimei Di Mango Q Q6 Installation Method Install a sofa butler to extend third-party applications.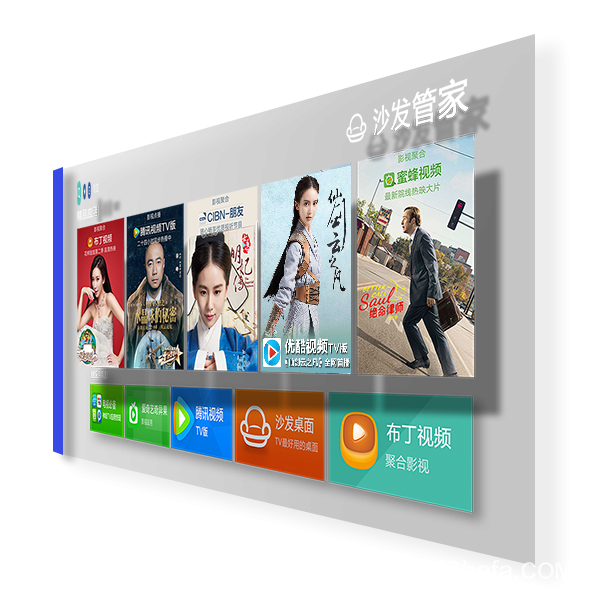 Online resources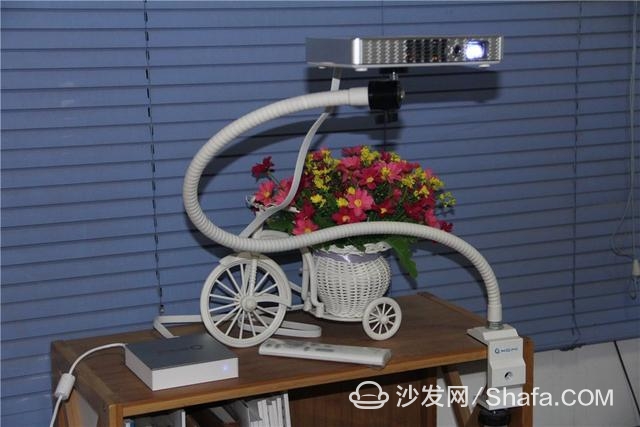 In terms of online video resources, Haimeidi H6 has a Mango TV license, and the contents are all authorized through Mango TV's genuine license. The resources are very rich. It also includes a number of exclusive network premiere variety assets. Mango TV's system interface is also more clear and clear, divided into "hot recommendations", "video classification" and "movie posters." But at the same time that you have a genuine license, it means that you can't find new movies and television shows that have just been released.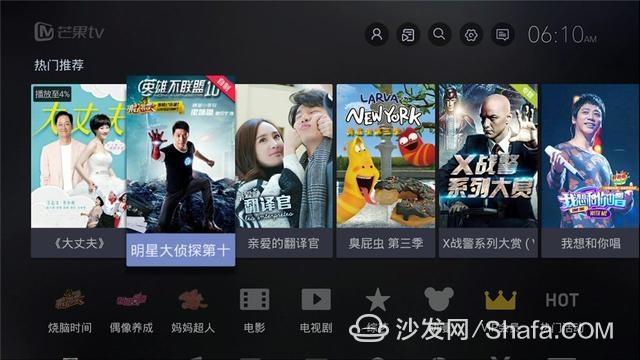 Mango TV built 1080P high-definition area, is divided into 1080P movies, 1080P TV series and 1080P animation.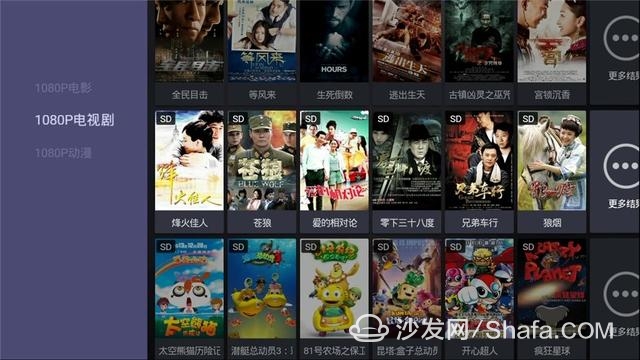 In the movie list, there is also a very detailed classification, in which we quickly find the type we like.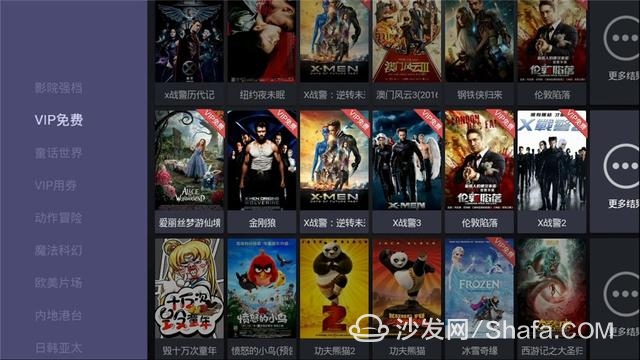 In addition to Mango TV, the system also has built-in "cloud video penguin", which is also the former Tencent video. It also has a lot of online resources.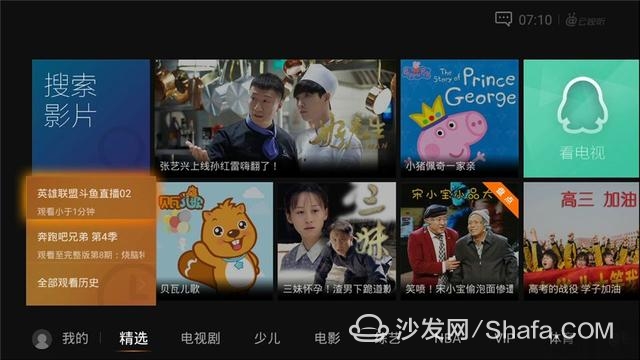 Online movie screenshot: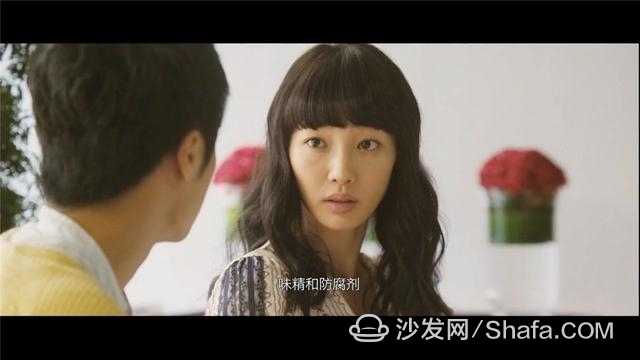 Online movie screenshot: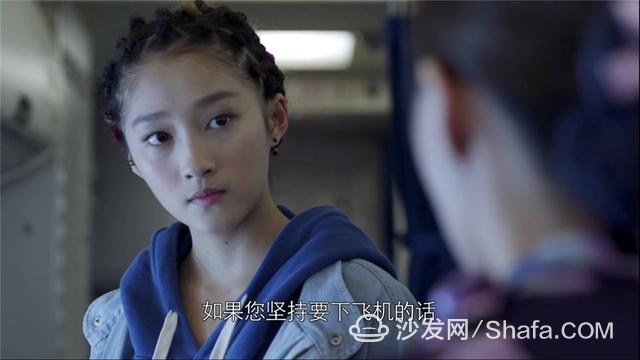 In addition to online film and television, H6 also has built-in QQ music, watching tired television, closing your eyes listening to music for a while can be considered a kind of enjoyment.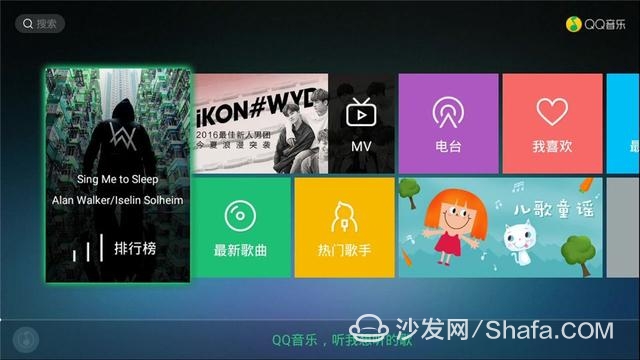 Local play
On the local side, H6 has a built-in "media center", which is divided into three types: removable storage devices, built-in storage devices, and local area network devices. Moreover, the system can recognize multi-partition mobile hard disks without identifying only one partition like some boxes.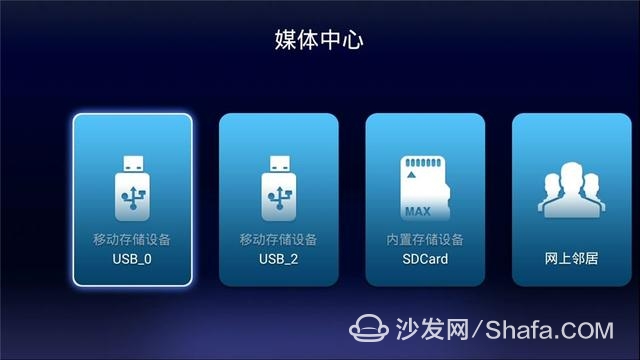 The media center is again divided into "video", "photograph", "music", "application" and "all".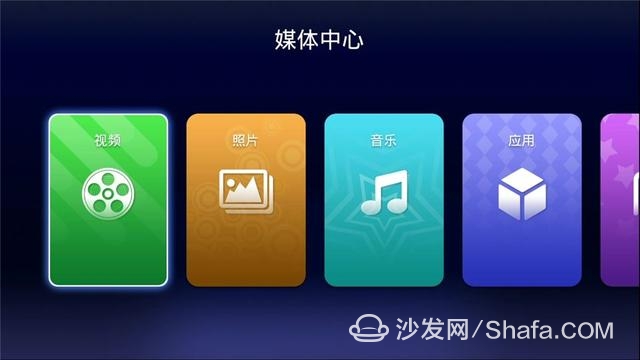 Through "Media Neighborhood" "My Network Places" or "NFS", we can quickly find the resources shared within the LAN, if you can not automatically search, you can also manually add.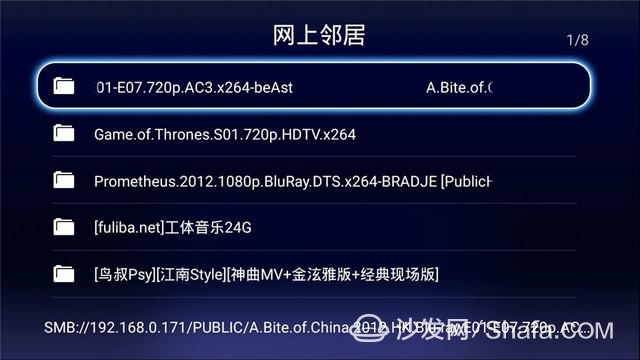 According to the "Bunny Rabbit Video Evaluation" software test, 30 different video samples, H6 only 19 perfect support, 3 video samples slightly, and 8 samples can not support.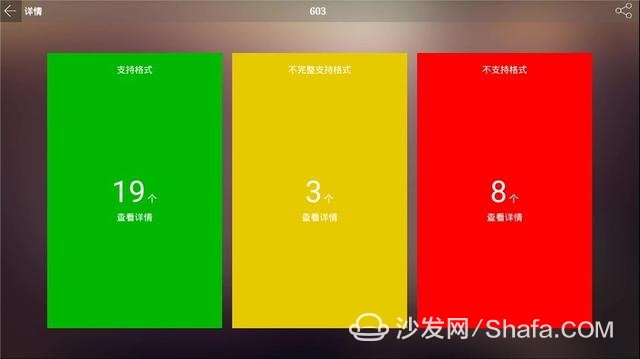 8 unsupported video sample details: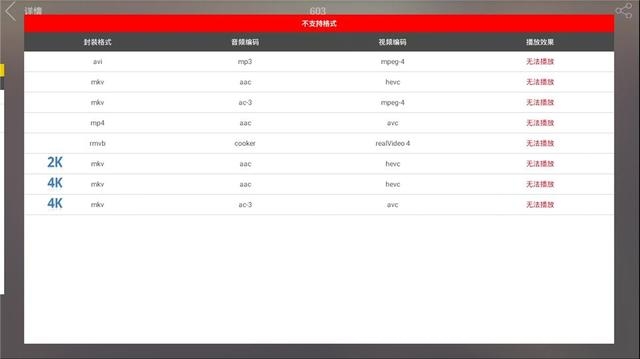 Three incompletely supported video sample details: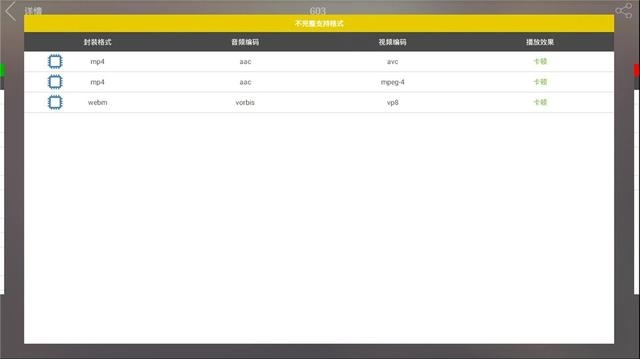 Through the results of software testing, H6's performance does not seem to be satisfactory, but in the actual use of the process, the effect is still very good, because we always watch the local HD format H6 are supported. In the local playback process, H6 supports the selection of external audio tracks and subtitles.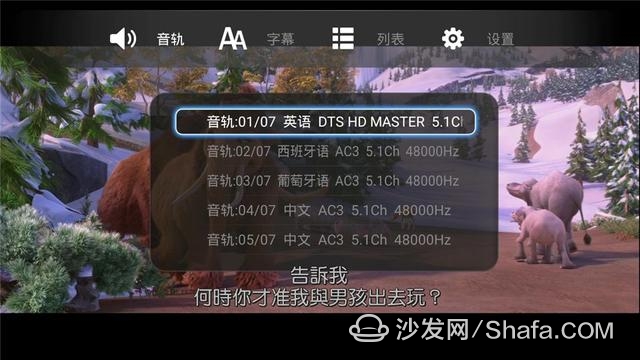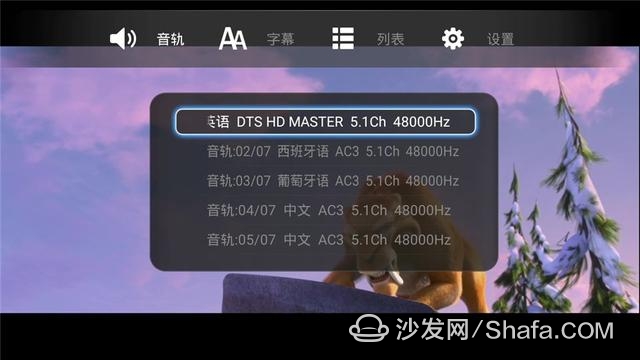 Some other related setting options.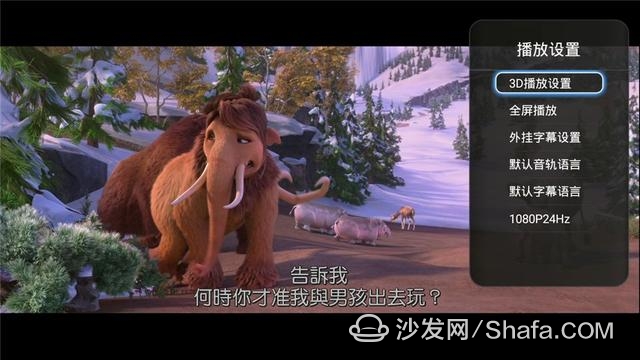 In HD decoding, Seamax H6 supports HDMI 2.0 output and 4K 10bit HEVC decoding, although H6 is not the first box to support 4K 10bit HEVC, but at present it is one of the few.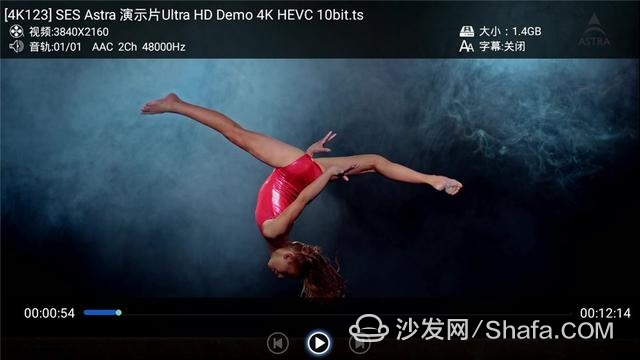 4K 10bit HEVC video capture: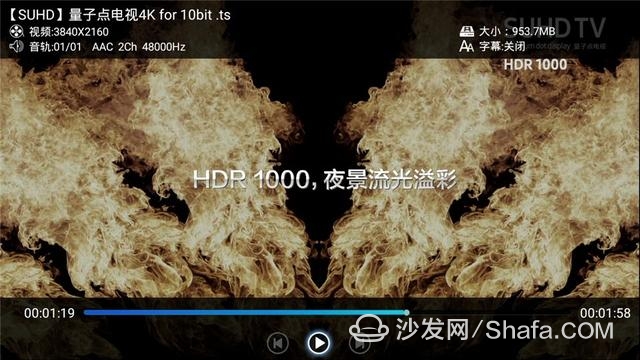 In addition, I also conducted dozens of 4K, Blu-ray original, 1080P, and H.265 encoded video playback on the H6. Two of them failed to play, and all others were perfectly supported.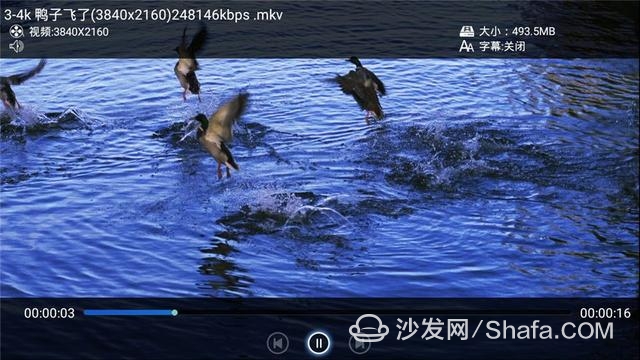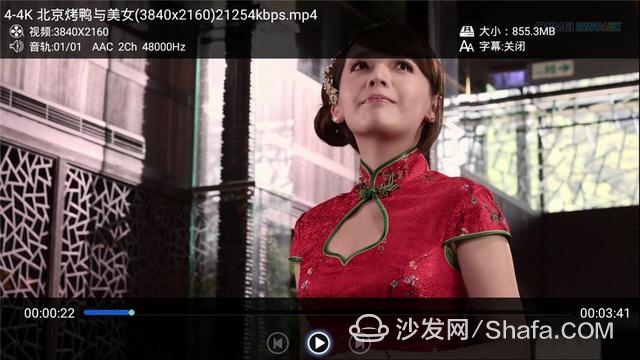 H.265 encoding video playback screenshot: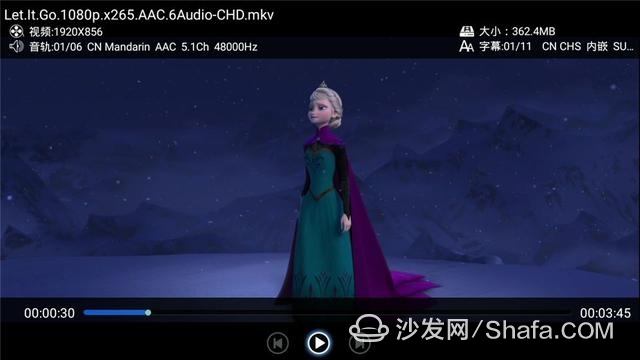 In the area of ​​local music, Haimi Di H6 supports most music files in the market, including wav, mp3, ape, ogg, dts, flac, aac and so on.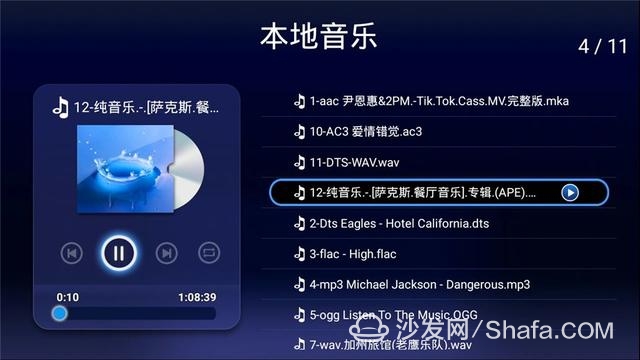 In terms of pictures, H6 supports automatic playback, music playback, and setting wallpapers.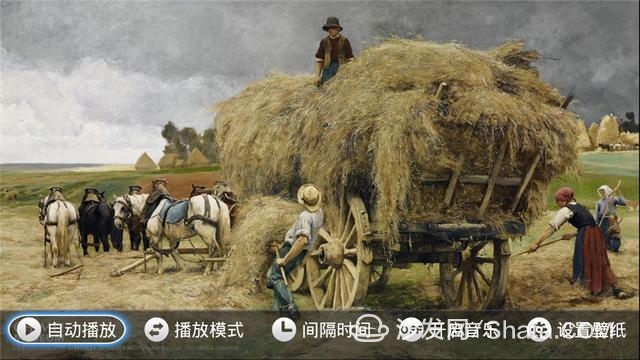 3D test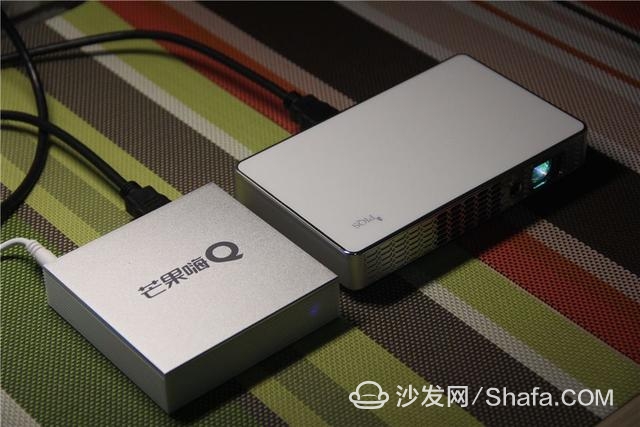 Haimeidi H6 supports 3D playback, including up and down and left and right modes.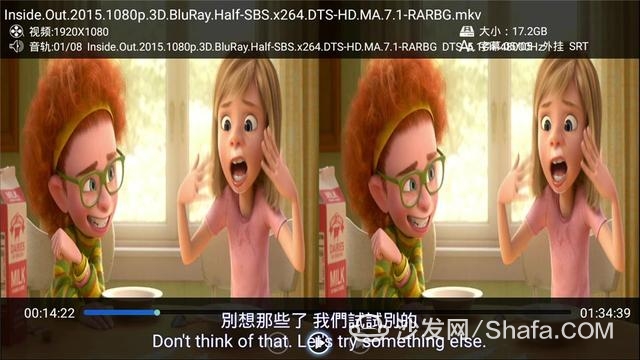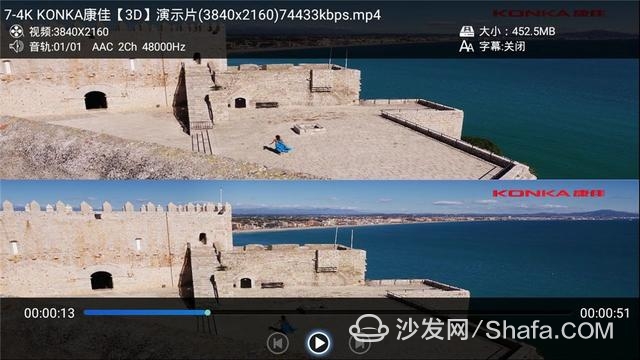 H6 does not set 3D buttons on the remote control. We can use the menu button to call out 3D playback settings. In addition, H6 also supports 3D to 2D functions.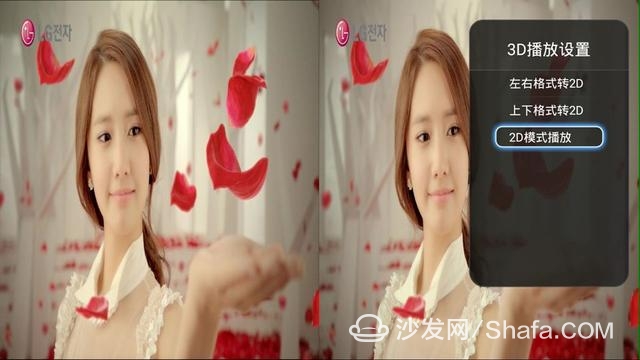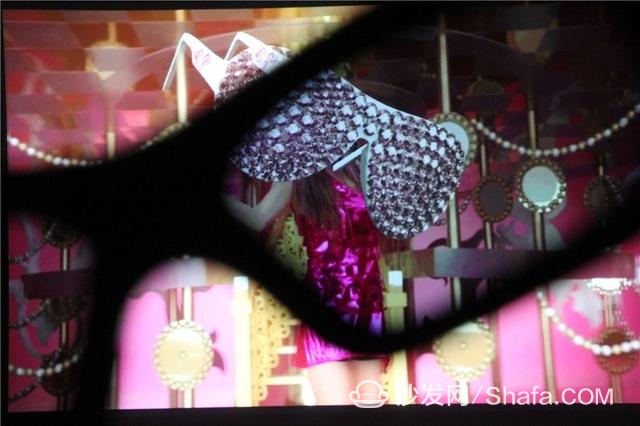 Game testing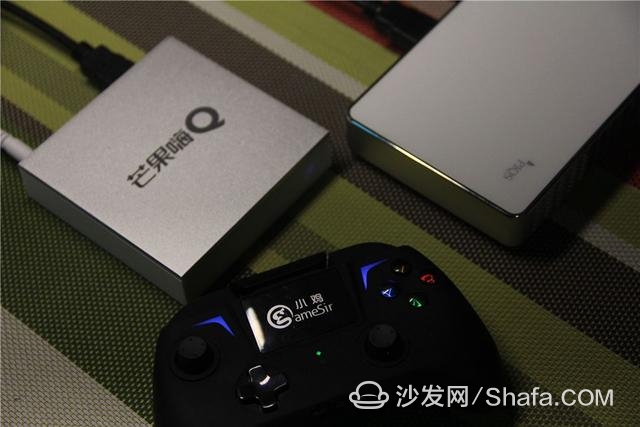 In terms of games, Haimeidi H6 has a built-in "little y game platform", including a large number of remote controllers and joystick games. We can choose according to our preferences. If you have a Bluetooth controller, H6 can also be perfectly supported.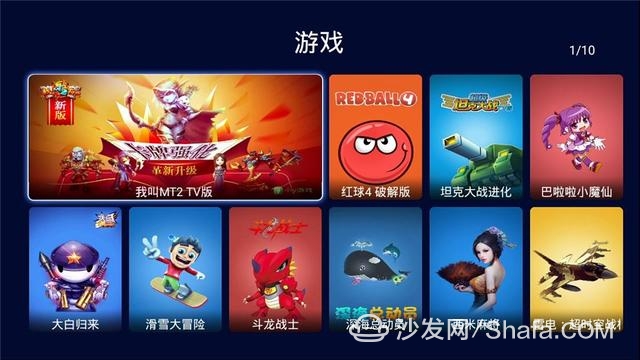 At the beginning we also saw that H6 randomly sent me a game prop card worth 128 yuan, which is called MT2. Not playing is not a waste. The game interface is very cartoon, and it's also very convenient to operate compared to the TV version. It's worth playing when you are bored.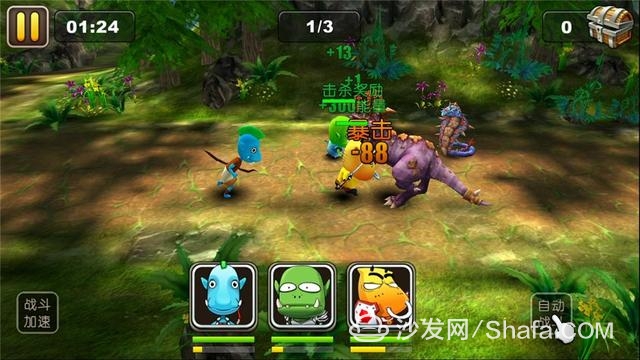 In addition, you can also play mahjong, landlords, are a very good choice.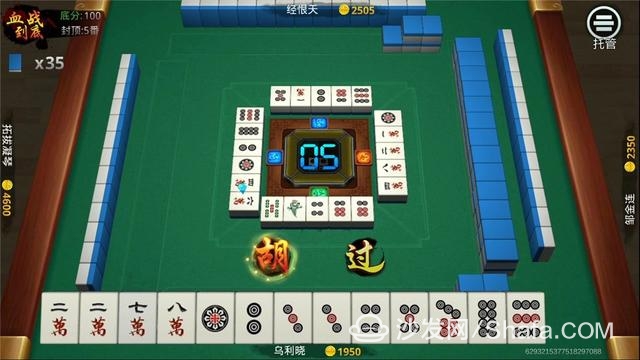 Parameter test
In the continuous use for more than 4 hours, the Seamax H6 was tested by an infrared temperature gun. The maximum temperature of the upper shell was 36.3 degrees Celsius, and the highest temperature of the lower shell was 42.1 degrees Celsius. Although slightly higher, it was in a reasonable range. Inside.

In terms of power consumption, the H6 is 0.66 in the standby state, 3.26 in the no-load normal playback mode, 6.59 when the 320G mobile hard disk is mounted, and 8.32 when the mobile hard disk is mounted. In general, H6 is also satisfactory in terms of power consumption.

to sum up
After several days of trials, the comprehensive performance of Haimeidi H6 made me satisfied, especially its voice control function, which greatly facilitated our daily operations, especially for our parents and children, the previous TV box. They want to find a TV to see. It's really troublesome. Now that they have voice operations, everything becomes very simple. Rich online video resources are also a major highlight. In addition, Haimeidi H6 has consistently maintained its excellent quality in local HD decoding, especially for 4K 10bit HEVC and H.265 decoding. If you need a home entertainment TV box now, this Heidi H6 is definitely a good choice.
A siren is a loud noise-making device. Civil defense sirens are mounted in fixed locations and used to warn of natural disasters or attacks. Sirens are used on emergency service vehicles such as ambulances, police cars, and fire trucks. There are two general types: pneumatic and electronic.
Many fire sirens (used for calling the volunteer fire fighters) serve double duty as tornado or civil defense sirens, alerting an entire community of impending danger. Most fire sirens are either mounted on the roof of a fire station or on a pole next to the fire station. Fire sirens can also be mounted on or near government buildings, on tall structures such as water towers, as well as in systems where several sirens are distributed around a town for better sound coverage. Most fire sirens are single tone and mechanically driven by electric motors with a rotor attached to the shaft. Some newer sirens are electronically driven speakers.
Fire sirens are often called "fire whistles", "fire alarms", or "fire horns". Although there is no standard signaling of fire sirens, some utilize codes to inform firefighters of the location of the fire. Civil defense sirens also used as fire sirens often can produce an alternating "hi-lo" signal (similar to emergency vehicles in many European countries) as the fire signal, or a slow wail (typically 3x) as to not confuse the public with the standard civil defense signals of alert (steady tone) and attack (fast wavering tone). Fire sirens are often tested once a day at noon and are also called "noon sirens" or "noon whistles".
The first emergency vehicles relied on a bell. Then in the 70s, they switched to a duotone airhorn. Then in the 80s, that was overtaken by an electronic wail.
Piezo Alarm,Siren And Alarm,Piezo Buzzer Siren,Piezo Buzzer Alarm Siren
Jiangsu Huawha Electronices Co.,Ltd , https://www.hnbuzzer.com