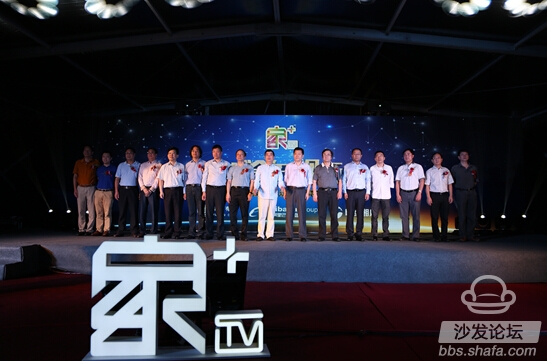 "Home Box New Vision"
Open a new era of home digital entertainment
In July 2015, Hunan Cable, Alibaba Group, and India-Guangxi-Guangzhou started the deep cooperation of the wide network + Internet, traditional media and new media. After more than two months of innovation and research, the Hunan cable "home box" finally landed in this fall season. The "home box" opened the way for Guangda to embrace the Internet.
Compared with previous high-definition set-top boxes, Hunan Cable's "home box" chip capacity increased by 6 times, memory increased by 9 times, fiber optic broadband increased from 10M to 20M, the number of HD channels carried doubled, the TV looked back from 3 days Increased to 7 days, can achieve 4K HD, watching events more passionate, watching more refreshing, playing games more fun, television Taobao exclusive TV products prices, more favorable. During the promotion period, each "home box" user has the opportunity to enjoy a $30 Alipay cash discount on TV Taobao shopping.
Hunan Cable's "home box" introduced the "mass and television + e-commerce + music + games + education" massive Internet business content from the Alibaba home entertainment service platform on the basis of the original high-quality live video service. Alibaba's home entertainment service platform aims to build the largest digital entertainment ecosystem. Through the big data cloud computing, it enables the refinement of massive content to serve people. Users can enjoy mainstream video works at home and abroad, global TOP10 game companies, and children's education. , Taobao shopping, paying utilities and other multi-service experience to create "the most complete family of digital entertainment ecosystem", allowing users to find family happiness from the heart.
"Happy to come home"
Realize the return of family living room culture
The Internet, especially the mobile Internet, has changed the way of life of human beings, and has spawned a series of lonely new ethnic groups. There is a lack of face-to-face communication among the family of the lower heads, the worms, the Taobao, the lost clans, and the Otaku Otaku family. It is warm and harmonious. Family living room culture is losing. The birth of the "home box" of the Hunan cable is to guide the return of family affection and bring more happiness and happiness to the family!
Hunan TV's "home box" is a wonderful film and television series, rich in culture and entertainment, the ultimate business application, a new industry ecosystem, and the whole family is attracted to the living room.
As you look and buy, an extremely user-experienced user experience model is on the horizon. Through Hunan's cable "home box", TV Taobao will become a common practice. The family looked at Tiger Mom and Dad, and the baby's clothes were liked by the whole family. You only had to move the remote control to get the same kind of goods.
Voice remote control, a set of new systems for "lazy people" also use comfortable system. Users don't even need to press keys. Just speak to the remote control and send a voice command. The TV immediately switches out the channel you want, the movie you want to watch, the product you want to buy, and the game you want to play.
"Interactive is more exciting"
Wisdom is everywhere
The "home box" of Hunan Cable has realized a true triple play. Connect the "home box", you can watch TV, listen to music, play games, TV Taobao, Internet access, to achieve a variety of intelligent, informatized applications.
Hunan Cable "home box" has built-in wireless WIFI to connect all home-based smart terminals together. Various pictures, videos, documents, and business applications can realize interactive switching between TV screens, computer screens, and mobile phone screens, enabling multiple screens. Fusion, family sharing.
"The home box is actually not a commodity, but a way of living in a smart way." Wang Zhilin, general manager of the Hunan Cable Group, told reporters that as the "home box" superimposes more content and services, it will establish thousands of users' lives. The contact of Siwanyi, thus improving our way of life. In the future, from the family to the community, from the community to the city, and from the city to the rural area, the Hunan Cable will achieve seamless coverage of wired and wireless connectivity. The wisdom life that accompanies the "home box" will be everywhere.
"Home Box" is the first intelligent set-top box with DVB digital TV live viewing function and OTT Internet TV on demand, TV shopping, life payment and other functions. For the majority of home users in Hunan, they have also become the first priority to experience the digital entertainment brought to the new horizon, happy to enjoy the "home box" brings family happiness.
1.Shape:Conoid ,Multi-pyramidal,Columniform,polygonal or conical
2.Material:steel plate.stainless steel compound plate,stainless steel plate,ect.(anticorrosion treatment with hot galvanization,also color polyester power could be coated on the surface)
High strength low alloy steel Q235,Q345,GR65,GR50 to ensure the mechanical properity of microelement in order to ensure the quality of galvanization (other materials are also avaliable on request)
3.Jointing of pole with insert mode,innerflange mode,face to face joint mode
4.Design of pole :against earthquake of 8 grade ,aganist wind pressure of 160
5.Minimum yield strength:355 mpa
6.Minimum ultimate tensile strength :490 mpa
7.Max ultimate tensilestrength:620 mpa
8.Certificate:ISO9001-2000
9.Length:Within 14m once forming without slip joint
10.Welding:It has past flaw testing.Internal and external double welding makes the welding beautiful in shape
11:Packages:Our poles as normal cover by Mat or straw bale at the top and bottom ,anyway also can following by client required , each 40HC or OT can loading how many pcs will calculation base on the client actually specification and data
Our lighting equipment are made from quality sheet from bending,forming,automatic welding and hot galvanization.We can reach one-run machining length of 14m,and can bend sheet thickness up to 25mm.We adopt advanced welding procedures ,automatically weld main joints and reach rank-II welding quality.
Octagonal Pole, Octagonal Street Light Pole, Octagonal Steel Pole, Octagonal Steel Electric Pole
YIXING FUTAO METAL STRUCTURAL UNIT CO.,LTD( YIXING HONGSHENGYUAN ELECTRIC POWER FACILITIES CO.,LTD.) , https://www.chinasteelpole.com